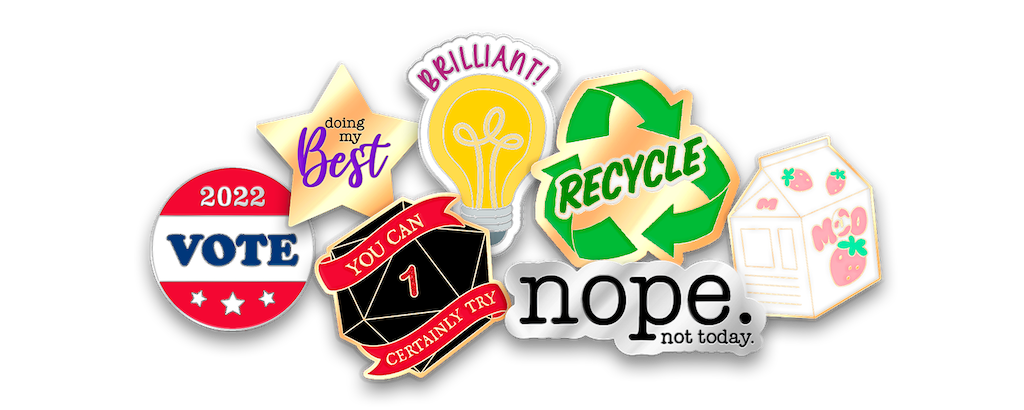 Looking for a classier way to represent your group or event? Consider hard enamel lapel pins from Sunset Pins and Coins.
Available in sizes ranging from .75 inch to 2 inches, these dressy, elegant pins differ from soft enamel pins in several significant way.
They're smooth all over, not textured, with a sleek, uniform surface.
They're harder and hence more durable.
They're buffed for a bright, glassy finish that resembles fine jewelry.
They're a little more expensive (because crafting them takes extra time and effort).
When should you opt for hard enamel rather than soft enamel? To some extent, it's a matter of personal taste. Some people favor soft enamel's rich, distinctive texture. Others prefer hard enamel's polished, professional look.
Plus, it depends on the end use. You may want to choose hard enamel lapel pins if:
You're in a public-facing profession like real estate, retail, or sales.
You're commemorating valued employees for special achievements or milestones.
You're hosting or catering an important event.
You're ushering or MCing at a wedding, bar mitzvah, anniversary, or other formal occasion.
Your organization is participating in a trade show or industry conference.
You're networking with other professionals.
You're fundraising for a nonprofit.
You're seeking a truly unique pin design for your fandom or collectibles business.
You love cloisonné jewelry.
You'll find there are countless good reasons to opt for hard enamel. It's really up to you!
How Do We Make Our Premium Hard Enamel Lapel Pins?
It all starts with your design. What do you want your enamel pin to look like?
Don't have a design? No problem. Just bring us your basic idea. With your input, our expert artists can turn your rough sketch or concept into a detailed design. These seasoned pros have specialized training plus years of industry experience, so you can trust them for a finished design that captures just what you had in mind.
Already have your own pin design? That's awesome! We'll gladly work with your custom artwork. In some instances, we may need to make slight modifications to ensure proper manufacturing. If that's the case, we'll let you know what the technical issues are, and we'll always get your sign-off before making these minimal changes.
Prefer to use a standard design? Let's say you're ordering American flag pins. That's a popular request, so, as you'd expect, we already have an array of standard options to choose from. The same goes for any other standard shape. Ask to see our collection of existing lapel pin designs. Chances are good we offer exactly what you're looking for. And remember, most basic shapes can easily be customized, so you can fine-tune an existing design to fit your specific needs.
Now We're Ready to Craft Your Pin
All our hard enamel lapel pins are die-struck " stamped into metal. It's the same basic tool-and-dye process used to make coins, paper clips, cupcake trays, and millions of other items.
First, we feed the digital artwork into a specialized machine, which carves (engraves) your design into solid steel. The result is a precision-cut stamping mold, which replicates your pin design down to the tiniest detail – but in reverse relief.
Then we insert this mold into a hydraulic press, which uses hundreds of pounds of pressure to stamp your pin design onto a metal plate. The plate is usually a softer metal like brass, copper, zinc, or iron, which easily yields to the intense hydraulic pressure.
This stamping process produces your basic pin blank. At this stage, it's 3-dimensional: The lines in your design translate into raised ridges, while the in-between sections become recessed cavities. (That's where we'll pour the colored enamel later on.)
Then we trim the excess metal away from the pin blank, so your pin will have crisp, clean edges.
Next Comes Enameling (Hint: It's Different from the Hard Enamel Process)
So far, the process is exactly the same as the one we use for soft enamel pins. But now comes the enamel stage, and that's where things get interesting.
Our skilled artisans use computer-aided tools to precisely fill each recessed cavity with the particular enamel color specified in your design. They keep adding enamel layers until the pin is filled to the brim, with each color carefully confined to its specific section. After adding each color, they bake the pin to harden ("cure") the enamel.
Then they buff the surface to polish down any excess enamel. By the time they're done, the enamel-filled sections are flush with the raised edges. (This differs from soft enamel, where the edges rise above the colored areas.)
Next, our craftspeople "electro-plate" the edges with a shiny, decorative metal like bronze, copper, gold, or silver. Afterward, they apply clear epoxy to lock in the brilliant colors and protect the surface from scratching.
Result: A Gorgeous Gem-Like Pin with a Lustrous Jewel-Tone Glow
Finally, our team adds the post and clutch – the backings that attach your pin to your lapel. Choose from:
Rubber clutches or butterfly clutches (free of charge)
Deluxe clutch backs, jewelry clutches, or safety pin backs (for an additional charge)
Now your pin is ready for shipping. The whole process takes about two to four weeks, and you'll work with the same friendly representative from beginning to end.
Why wait? Order your hard enamel lapel pins now – any quantity from 100 to 10,000 – in time for your next special event or occasion.